Welcome to 4C Council
The 4C Council will be closed on Monday, February 15, in honor of President's Day.
The Community Child Care Council (4Cs) of Santa Clara County is proud to serve the community of the greater Silicon Valley and has been doing so for more than 40 years.
4Cs is a 501(©) non-profit, community-based agency that provides a variety of comprehensive services and serves as the community child care link for families and child care professionals who live and work in Santa Clara County, California.
*******ATTENTION FAMILIES AND PROVIDERS, NEW TIMESHEETS AVAILABLE HERE, EFFECTIVE MAY 1, 2015*******
***4Cs HAS A NEW ADDRESS!!***
4C Council of Santa Clara County
150 River Oaks Parkway, Suite F-1
San Jose, CA 95134
*****TAX FORMS*****
Tuition and Family Fee payment summary is available upon request.Please call the appropriate number below for more information.
English:
x531
(408) 457-3100
Spanish
x534
(408) 487-0639
Vietnamese:
x532
(408) 343-7748
If you are a provider who has received child care payment through our agency and need to know the amount for tax purposes, a form 1099-Misc Income will be mailed out to you on 1/31/16.
---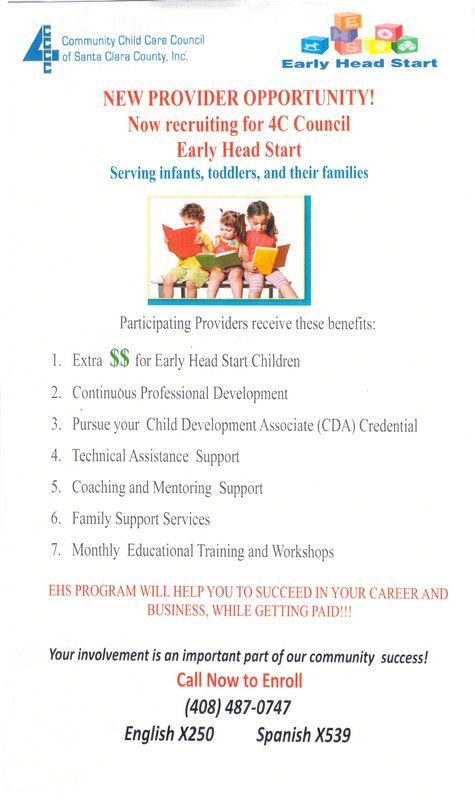 ---