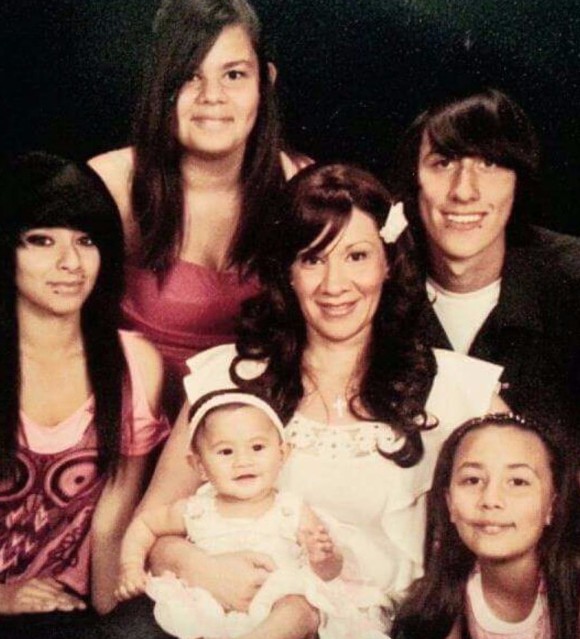 MEET Malinda and her kids............
Malinda is appreciative of the child care services she has received from the 4C Council.  In her own words she states, "I first wanted to thank 4Cs for being so supportive in my journey.  I'm who I am now because of the support they gave me through the toughest times of my life.  4Cs was not just my childcare provider...they became my family.  I started with them in 1997 and was able to go to work and provide for my kids.
When I first started with 4Cs I just planned to work but when I had my last daughter I was determined to show my daughters, all four, that it is never too late to go back to school.  The economy was getting tougher and even though I had assistance for daycare, I still was responsible to be the sole provider.  So in 2014 I decided to give back to the community and go to school for a medical assistant I then pursued and, nine months later, I graduated with honors.   I started to work with Palo Alto Medical Foundatioin and finally was able to get off welfare and be self sufficient for my daughters.  
If it wasn't for 4Cs to help me grow and achieve this goal for my family I honestly don't know what I would have done.  Today I'm a Certified Medical Assistant and able to be self sufficient and my girls are so thankful and now strive to be powerful women.  My 21 year old is in culinary school, my 17 year old is finishing her first year as a police officer, my 15 year old wants to be a writer, and my baby enjoys life.
Thank you 4Cs.  I'm blessed for providing care for my kids so that I can be the powerful woman I am today."
 Malinda C.
YOU CAN HELP TOO.....AND MAKE A DIFFERENCE IN A FAMILY'S LIFE.
HOW?
By making a donation in support of 4C Council's work in the community.   The 4C Council is a non-profit, 501(c)(3) organization.  Your contribution is tax deductible. If your donation is made online you will be sent an email to use as your receipt. If you donate by mail we will send you a tax exempt receipt. There are many ways to financially support 4C Council. No gift is too small.
Help us to raise money.....join the effort with many others in the community so that 4C Council can continue to help families become successful.
Click the DONATE NOW button below to donate.

---
4C also accepts donations of items we can utilize in the office or that are given to our clients. Please call (408) 487-0747 or email info@4c.org if you have an item to see if we can use it.
Donations should be sent to:
4C Council
Donations
150 River Oaks Parkway, Suite F-1
San Jose, CA, 95134
Your contribution enables us to provide the needed services to countless parents and providers in the community. If you need more information please email info@4c.org.