Child Development Centers
The Community Child Care Council of Santa Clara County expanded our child care services to meet the overwhelming demand for quality child care programs. Having served the child care community for more than 40 years, the agency has seen tremendous success as it grew from an administrator of subsidized child care funds to also being a direct provider of child care services. The following briefly describes our centers and the premiere services offered in our programs.
1.Early Learning Center (Orchard) State Preschool Program

The Early Learning Center is located on the campus of Orchard Elementary School District. It is a State-funded Preschool serving children from 3 years old to 5 years old. The early care and education philosophy is to deliver child development services that promote children and families reaching their optimal potential, thereby helping children to success not only as early learners but also as contributing adults.

4C Council's current early education program, in addition to the strong focus on early literacy and family literacy, includes:

Age appropriate curriculum that reinforces each child's growth, development, and success in school
Comprehensive preventive and early intervention services and related family support referrals with follow-up
Sustained professional development component
Development of strong family partnerships

Location:
921 Fox Lane
San Jose, CA 9534
(408) 944-0395 Office
(408) 432-6395 Fax

2. Early Learning Center (Orchard) - School Age Program

The Early Learning Center is located on the campus of Orchard Elementary School District and is a full service program for children ages 6 to 12 years. The center is an ideal environment for the children that reside in the district and a great option for parents who work in the area. The elementary school is unique as the only school operated by Orchard School District and serves grades K-8. Our child care center is located on the school campus and allows children to easily transition into the after-school program operated by the 4C Council. The classrooms are age appropriate to school-age children.

The center provides flexible programs and services to private pay, income eligible subsidized, and alternative payment program participants that include nutritious meals under the USDA Child Nutrition Service program.

Location:
921 Fox Lane
San Jose, CA 95131
(408) 944-0395 Office
(408) 432-6395 Fax

3. Early Literacy Program (Northside)

The Early Literacy Program at JTS Northside Community Center fosters the language and literacy development of children 3-5 years. Northside operates a full day program and 2 half day sessions. The partnership with JTC Senior Center provides opportunities for intergenerational activities that are positive for the child and for the seniors attending JTC.

Location:
488 N. 6th St.
San Jose, CA 95112
(408) 457-3145 x613 Office
(408) 510-5281 Fax

5. 4C Child Development Center (Checkers)

The 4C Council Child Development program at Checkers Drive will support developmentally, linguistically, culturally appropriate programming for children, while recognizing and honoring children's individual rates of development as well as individual interests, temperaments, languages, cultural backgrounds and learning styles.

Location:
302 Checkers Dr.
San Jose, CA 95133
(408) 240-0135 Office
(408) 240-0136 Fax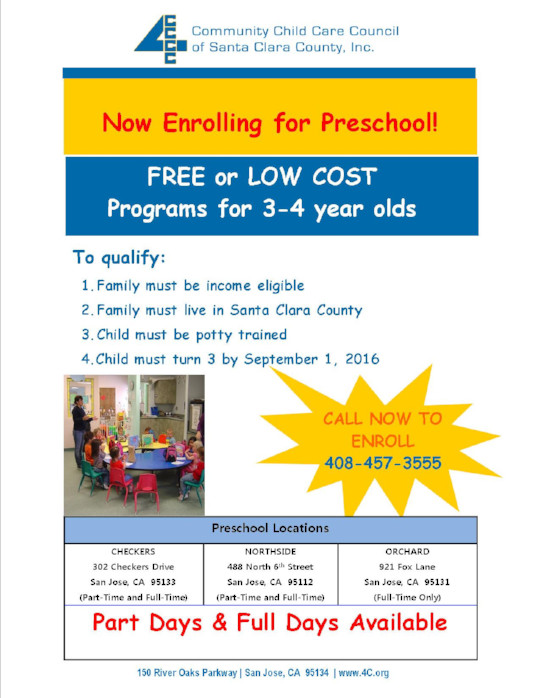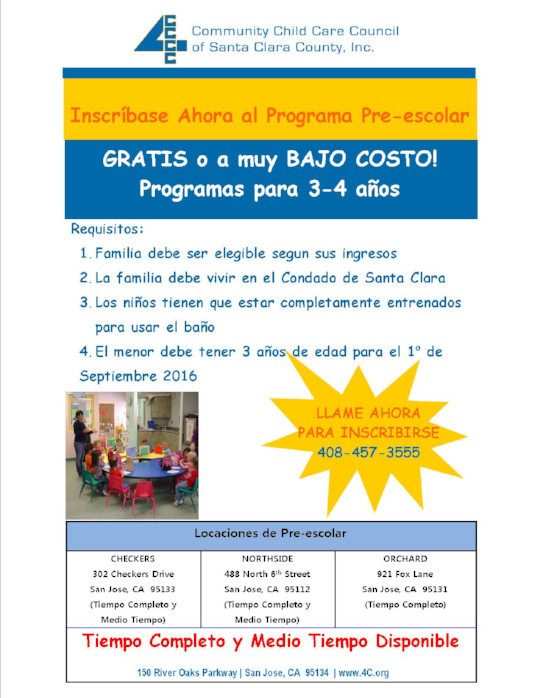 Staff In-Service Training

4Cs Child Development Staff attend monthly training and workshops on various child care topics to help them keep their skills up to date and thus guarantee quality preschool programs for your children.
Please complete the following form if you are interested in finding out more or enrolling in one of our State Preschool programs. Please note, child must be three years old by September 1 of the start of the school year.