---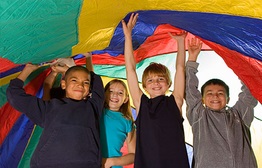 Grab an edge of the parachute and join in the fun! In this participatory workshop, learn games and activities that use this play canopy to teach motor skills and develop overall physical fitness. Developmentally appropriate activities for toddlers to school-age children will be shared. Come play "Pop the Bubbly, " "Volcano," "Motor Boat, " and many, many more!
Presented by:Sharron Krull
Cost: $25 / per person
Click on the following link to print out the registration and drop it off in our office or call 408-487-0749 to register and make payment.
Workshop Flyer Registration Form
Registration and payment is also accepted on the day of the workshop or you may register on line by clicking on the "Register Now" button.