Social Emotional Development in Group Care / Desarrollo Socio-emocional y en el Cuidad Grupal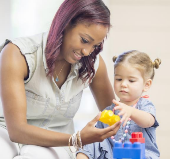 Social Emotional Development in Group Care / Desarrollo Socio-emocional y en el Cuidad Grupal
Participants will explore the origins of children's behavior; including how biological factors, early childhood settings, family dynamics and the greater community influence child development.
This workshop is intended for licensed family childcare providers and assistants, and privately operated childcare center staff who work with mixed age children.
Cost: FREE!
Este taller avanzado permite la oportunidad de discutir la manera en que los proveedores de cuidado infantil pueden incluir a niños con necesidades especiales en su programa.
Los participantes aprenderán a incorporar los métodos de disciplina y guía que facilitan el comportamiento pro-social, la solución de problemas, la autorregulación, el concepto positivo de sí mismo y la autoestima.
To Register, click on the following link to print out the registration form and mail or drop it off to our office.
Workshop Flyer Registration Form
You may register on line by clicking on the "Register Now" button.
****Please do not bring children to the class. This ensures we have optimal learning environment and sufficient materials and preparation for the presenters so the training benefits all those who attend.****