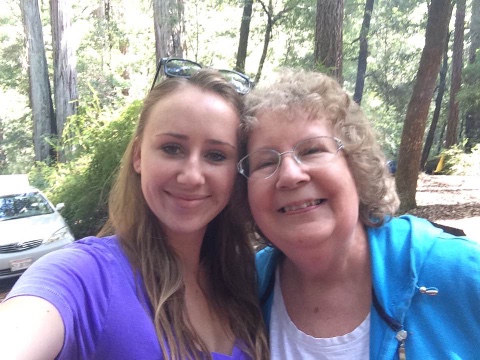 In April of 1973, I was a newly licensed family child care provider with four young children of my own.
The Neighborhood Day Care Program was a training program that had been instrumental in my journey. Not only did I learn all about 4Cs there, but the program also taught me so much about the business aspect of family child care; I learned about health and safety, child development, nutrition, music and movement, play, and how to communicate with parents. I also learned about the differences between teacher directed-activities and child directed-activities.
At that time, 4Cs was in its first location on Virginia Street. I started attending workshops there at the old cannery building. Sister Julie was the teacher at that time.
One day George Shirikawa Sr., who served on 4Cs' Board, knocked on my door. He was campaigning for City Council. He mentioned that 4Cs needed a family child care representative for their Board of Directors.
I was so thankful for all the help that 4Cs' staff had given me that I wanted to give back to them and to help family child care providers, children, and families. I decided to serve on the Board.
The first meeting I attended I was so out of my comfort zone. But that was actually a good thing because being outside of our comfort zones is what drives us to learn and grow. I met wonderful men and women from all walks of life, who were all driven by one unique purpose: To come together for the benefit of helping children and families in Santa Clara Country.
Driven by my passion for learning, I continued to attend workshops at 4Cs. I also attended child care conferences in California and New Orleans.
When my children were older, I started taking Early Childhood Education Classes at San Jose City College. I also took general education classes and renewed my love of English Literature; I also found a new interest in history and science.
Three of my friends and I started Partners in Child Care, a family child care association. We signed a contract with the Teamsters Union and were able to provide medical insurance for licensed providers throughout the state of California.
My husband and I received "Outstanding Child Care Contributor of the Year" in 2000 from the Mayor of San Jose and the City of San Jose. It was nice to be recognized for doing something we loved.
After resiging from the Board of Directors after 20 years, I became a child care provider for Early Head Start. As you can see, 4Cs continues to be a big part of my life.
Without this organization, I never would have had the courage to be involved with children in so many ways.
My friend, Pat Alexander, and I also ran our own workshops to train and educate others in the child care field.
But here's the thing: We could learn everything in the world about caring for our children, but none of it means anything unless the LOVE is there. We must have a deep-down caring for children in our hearts. I cannot stress this enough. A person can learn everything about children and the care of children, but if there is no love, the children in their care will suffer greatly.
In this busy world, children need to be hugged and loved in so many ways. They need it to grow and to be caring of others, as well as themselves.
Thank you 4Cs for all you have done for me, for all the joy you have brought to my life, these past 44 years. My life certaily would not have been the same without all of you.