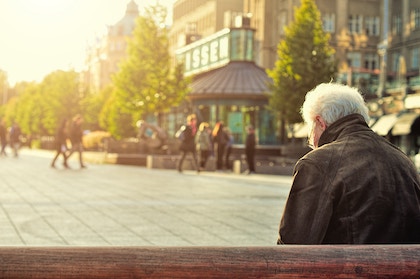 Earlier this year, the organization Feeding Hunger joined forces with the National Foundation to End Senior Hunger to research food security and the senior population.
Their studies were nothing short of shocking.
They found that 14.7% of seniors are dealing with the threat of hunger on a daily basis. This number is way too high. It breaks down to a total of 9.8 million seniors.
Let that sink in for a moment.
9.8 millions seniors.
That's 9.8 million elderly individuals who, instead of living out their later years in comfort and stability, are met with the daily stress of determining where their next meal will come from — not to mention how nutritious and nourishing it will be.
In the organizations' findings, they found that this problem was prevalent among seniors living in the South and Southwest, ones who are lower-income, and also minorities.
This is simply unacceptable. If nearly 10 million of our seniors are unable to count on receiving healthy and appetizing meals every day, we, as a community, as a country, must step it up. We are failing them, and it's time to truly take some meaningful action, so that our seniors can get access to wholesome, nutritious food.
Wholesome and nutritious food is the key here, as oftentimes, it's too easy to scrape by on food that's devoid of health and vibrancy. Whether you're a senior or not, you know how convenient it is to reach for that bag of potato chips, or that candy bar. And not only is it convenient, but it's inexpensive. In many cases, if it's a choice between eating something unhealthy or not eating anything at all, every person would most likely — and with very good reason — choose to eat unhealthily.
And so it's essential, in determining solutions to fulfill the dietary needs of our senior population, that we also give them access to meals that contain an abundance of vegetables, fruits, whole grains, legumes, and other non processed foods.
We must band together and work to create solutions to keep our senior population nourished.
At 4Cs, we are proud to serve nourishing meals to seniors at our Northside Community Center. Our team of dedicated volunteers inspires us to no end. From cooking to serving to interacting from a place of love with our senior population here in Santa Clara County, our volunteers bring all of themselves to the service they provide our community. We are proud of our work with seniors, and our relationships with partners and volunteers.
Especially in these cold Winter months, there is nothing more satisfying than a warm meal. We are committed to continue serving our aging population as best we can.