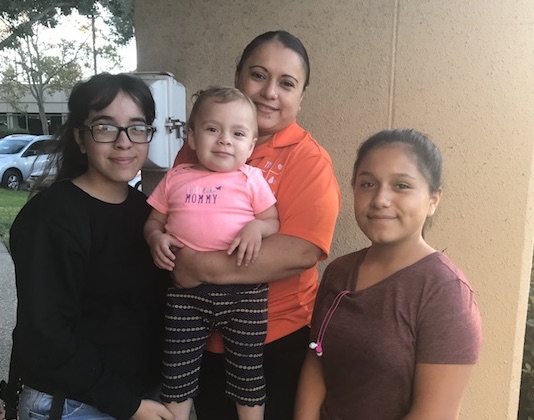 The heartbeat of 4Cs can be found in the countless providers and families that we are fortunate enough to work with and support. This organization would be nothing without these many relationships, and so we strive, always, to stay connected to the many people that make up our vibrant community.
In this profile, we're featuring Petra.
Petra is a single mom with three girls. Her youngest, Elizabeth, is only 22 months old.
When Petra was pregnant with her, she knew that she had to figure out how to care for her child, while working to keep money flowing into the household. At the time, Petra had been working at a gas station. Since she had a challenging pregnancy, she had to leave her job early, so that she could rest before the baby's delivery.
"One day, when I was at a doctor's appointment, I met this woman. She asked if I had a job. She asked if I was working. I told her I was looking for a babysitter but it was too expensive. She gave me her card. I called the number on it, and found out about the EHS program. There were no openings at that time, but they suggested that I start with the home-based program," Petra says.
A home-based program is when a provider comes to the parent's home and teaches them all the tools for bonding with and caring for their child. For Petra, they would come out once a week. Even though Petra already had two older daughters (ages 16 and 11), she learned a great deal from those visits, which lasted a few months.
When Elizabeth was nine months old, an opening came up. She was accepted into the EHS program and got placed with an exceptional day care provider.
"She likes day care," Petra says, smiling. "She started learning how to do things early. She's fully independent. She likes to play with her own toys. I feel like she's safe. The provider is really nice. She always calls me if she there might be a problem, like maybe she finds a rash or something. I feel like she's another grandma. I don't have my mom here. The provider gives a lot attention to my daughter. She never cried. Even though I stayed with her for 9 months, there was never that separation anxiety."
Petra was able to return to work full-time, and also attends parenting classes through the program. She is inspired by all that she has learned.
"You learn how to talk to them, you learn about how they're developing. About their emotions. It's interesting. There's so much to learn," Petra says. "There are so many programs here that help the community a lot. There are so many people who need help and have no idea this something like this exists. I'm very grateful."