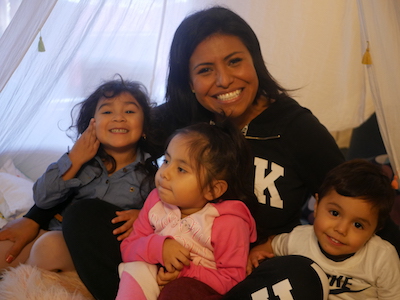 The passion that Roxana Flores exudes is contagious.
As the owner of Roxana's Day Care in San Jose for the past 8 years, she offers a colorful program of gymnastics, zumba, art, music, yoga, and meditation. She is a woman on a mission; one who is fiercely devoted to providing a safe, warm, and nurturing environment for children to blossom into their fullest potential.
"Home day care means warmth. It's a place where you're safe. The same person every day is going to change your diapers. The same person is going to carry you. The same person is going to love you. These kids -- they make a connection to you. And that's important. We're always very warm with them...We're like family," Roxanna shares.
That sense of connection is demonstrated right at the very start. When a parent comes in to sign the enrollment papers, Roxanna likes to joke around and say that they've now officially married her.
"Because we have a kid together now, right?" Roxanna explains. " Their child is going to be with me for 8, maybe 9 hours. And for this to work, we have to stay connected. There has to be good communication. If we have good communication, we have a more powerful relationship."
This is what inspires Roxana, what drives her to connect in a real and personable way.
She connects with the kids by being genuine with them, by teaching them how to resolve their own problems and how to trust themselves. She believes that too often, we try to control so much of our children's behavior, telling them to change this, do this, be more of this. But Roxana doesn't like to weigh them down with so many rigid expectations. She likes to encourage them to follow their own inner compass, so that they can thrive and grow into strong adults.
Roxana is also currently very interested in making her day care a place where special needs kids can thrive as well. Her interest with special needs stems from her experiences with her daughter.
"When she was a toddler, my daughter had 4 surgeries in her ear. That's why I started studying child development. She couldn't hear, and she had problems with walking and balance. She would fall down all the time. I had to worry about her and her day care taking care of her. At that time, the day care wasn't really fulfilling her needs. So I had to do something. I had to do something in my own life, and for my daughter, to help her. I had to learn everything I could," Roxana shares.
Now, at the age of 11, Roxana's daughter is doing great. She does gymnastics, and plays piano and guitar. After she had the surgeries, she had a speech delay. Roxana was told not to speak Spanish to her daughter, because supposedly, it would only confuse her. The doctors thought it would be impossible for her to learn. Roxana taught her anyway, knowing that her daughter could do it. And she was right. Her daughter now speaks both English and Spanish beautifully.
At present, Roxana is taking two special needs courses, and hopes to make her day care environment more inclusive to all children. "All kids are different, and we have to accept it. We have to provide more quality. We need to help the community...its needs, its hopes, its desperation..."
While she cares for 12 children at her center every week, she is grateful for 4Cs, and all of the tools and resources she has received.
"4Cs changed my life. I'm a single mom. They gave me the power to do more. The power to study more, to do more in my life. Now I just feel more prepared, in every way. They helped me to be better. To improve my daycare and my business. I'm happy. I enjoy what I'm doing. I have a passion to help people in the community," Roxana states.
And that passion, it seems, is quite relentless. Right now, Roxana is aiming to get a degree in child development and special needs. And in the future, she hopes to open up her own preschool that will focus on nurturing the emotional and social aspects of kids, as well as providing an exercise and yoga program.
The sky's the limit for Roxana. And we are beyond inspired by all the beautiful work she's doing to deeply impact the community.
We recently shot a video of Roxana sharing a bit more about how she works and plays with her kids...