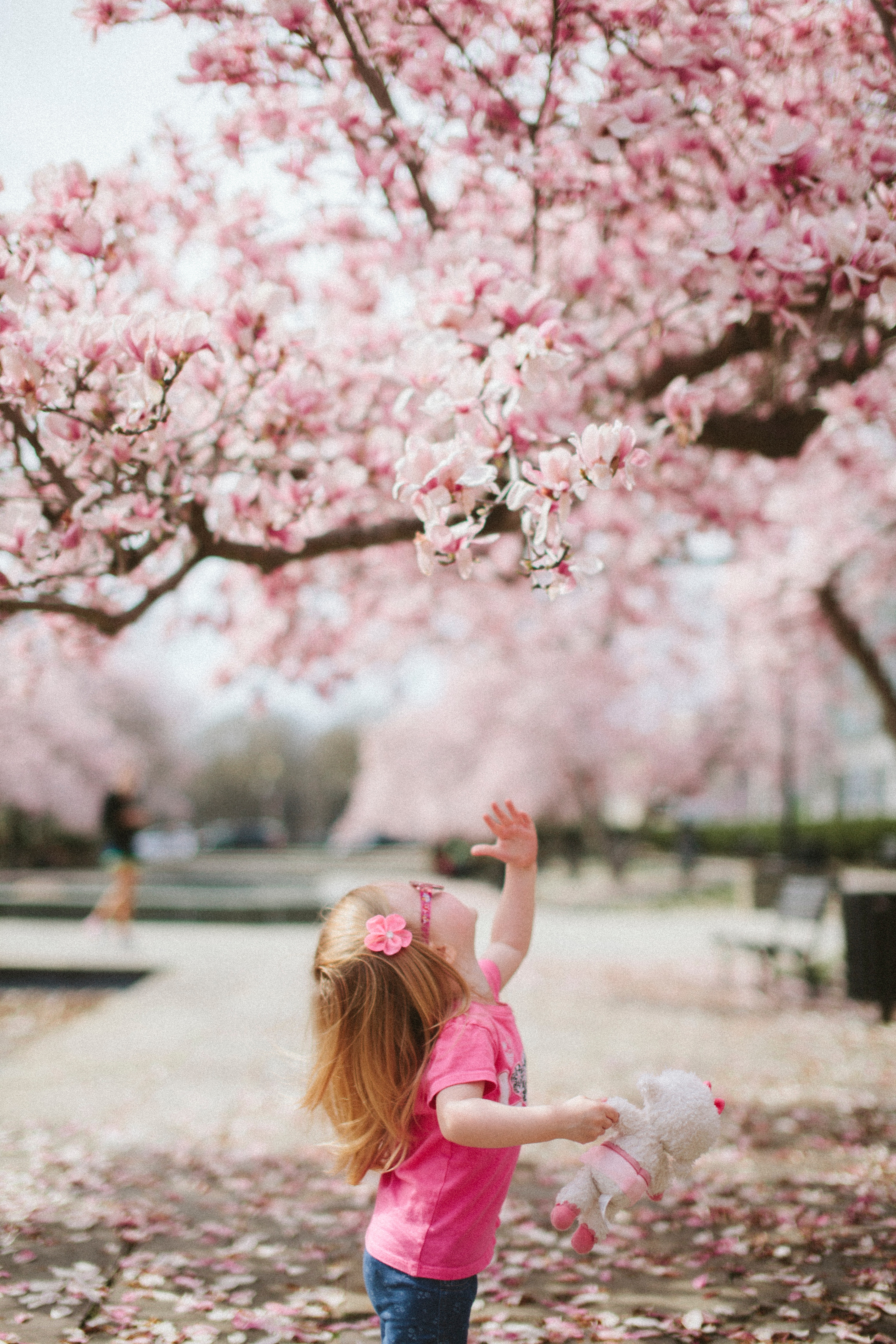 When Spring is in the air, so is magic.
Spring offers a time of renewal and celebration. It's a time of shedding the old, and welcoming in the new; of taking off the layers that have protected us during the colder months to enjoy warmer weather.
When it comes to kids (and adults too, really), Spring offers endless opportunities for connecting with nature, which, in many cases, is a lost art. Studies have shown that people are spending more and more time indoors. And if we let these last precious weeks of Spring pass us by, simply because we want to stay cooped up all day, we'll be missing out.
If you've got kids, care for kids, or even just feel like a kid at heart, take some notes on the list below...and then get outside and immerse yourself in the beauty of Spring…
10 ways to enjoy Spring outdoors with Kids
1. Go on a walk, and turn it into a kind of "scavenger hunt" for the kids. As you walk, see if the kids can point out any items, signs, or colors that you want them to find. You can either create a list beforehand or do this spontaneously. By the time the game ends, you'll have gotten in a good bit of exercise, oxygen, and energy, all while having fun in the process.
2. Plant something. Spring offers such a precious window of possibilities, so take advantage by working with nature to create something from seed (or seedling, if that's more your style). Not only do kids love getting their hands dirty, but they love planting seeds, and watching something grow. Letting them be a part of this magical process teaches them about patience, the environment, plant cultivation, and nutrition, while also giving them a deeper appreciation for nature.
3. Grab a book and read it to your child outdoors. With an outdoor setting, it will bring a new experience and create an exciting context for reading time. Book + Nature = Amazing memories to last a lifetime.
4. Spend the afternoon with the trees. Hug them with all your might. Run around the trees and chase each other. Lie down underneath each tree and study its leaves, its branches, its trunk; talk about the characteristics that distinguish one tree from the next. Often, we take nature for granted, and don't realize just how unique every single plant, tree, rock, and body of water is. Show your kids the ways in which every tree has its own "personality," and give them the gift of appreciation and awareness.
5. Have a picnic on the grass somewhere. And it doesn't have to be a special location. Going out into your own backyard will be a stimulating and refreshing experience for your children.
6. On the night of a full moon, take the kids outdoors to watch and study it. Bring some binoculars with you, if you have them!
7. Gather sticks with your child, and create letters and words with them. Bringing nature to the act of learning will make for a fun and fulfilling time. This is a great one to do, whether or not your child knows how to spell words. The children who already know will get lost in finding creative ways to bring out letters with their sticks, while babies and toddlers who don't yet know how to spell or read can enjoy learning all the letters.
8. Create an outdoor teepee that your child can enjoy. This is great to keep going in the summer months; the teepee will provide much-needed shade and be the perfect hideout to inspire young imaginations. It's easy to build an outdoor teepee. Grab a few 8 foot bamboo sticks. Stick them in to the soil, and then allow their tops to cross over each other. Tie the tops of the bamboo together to create your teepee. Then get a piece of cloth, and drape it over the bamboo sticks, leaving an opening for kids to enter through the front. You can even tie the cloth or fabric to the poles, so it doesn't fly away. Kids love teepees, and will no doubt love you for creating this!
9. Get in the backyard and do some yoga with your child for 15-20 minutes. This will get them relaxed, and also promote a sense of well-being within them. If you don't know any yoga poses to show them, or you've never done yoga before, try the Cosmic Kids Channel on YouTube. They've got lots of great yoga classes for kids.
10. Finally: Just get outside, and allow the spontaneity of this magical time to overtake you. We don't need to always know exactly what every part of our day will look like. Leave some time to just flow and discover what's working in the moment, so that you can find your own new ways of celebrating Springtime and enjoying nature. Children love to live in the moment, and their minds are bursting with creativity. They have a much easier time when it comes to discovering new possibilities, so we can follow their lead and go with the flow.
Enjoy the rest of this beautiful Spring.