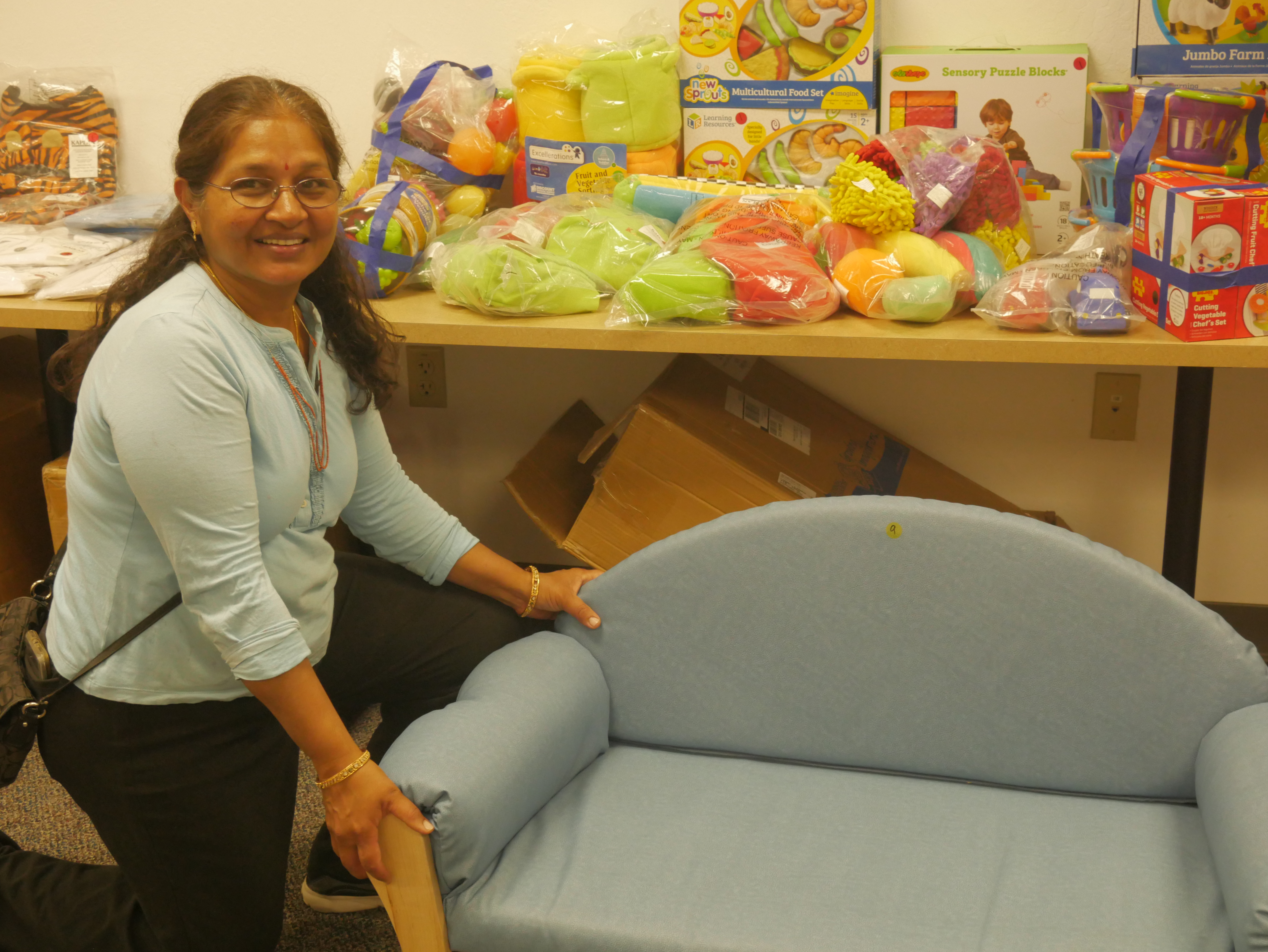 At the end of June, child care providers who are a part of our Child Care Initiative Project (CCIP) had the opportunity to come in to pick out items from our CCIP store, which was set up at our offices.
For every three hours of workshops that providers had taken for the past year, they received one CCIP dollar.
And each CCIP dollar is worth a lot more than what one actual dollar can afford. With just a few CCIP dollars, one can walk away with a handful of books, toys, and other items.
Karina Naranjo, a Resource and Referral Child Care Specialist served as one of the coordinators of the CCIP, along with Jeanette Bellerive.
"This is my favorite event of the year," said Naranjo. "The providers get so excited. This is a fun way for us to help them get started."
The program is open to family child care providers, who either have their license or are in the process of getting their license. Through the program, providers get access to free workshops, technical assistance, and even help with their licensing application. 4Cs staff also comes out to do pre-licensing home visits to make sure everything is according to licensing requirements, so that when Licensing visits their home, they're prepared.
This year, there were close to 60 participants. To graduate the program, a minimum of 25 hours of workshops is needed. Six providers qualified as graduates, with the top provider doing a total of 44 hours. All graduates receive an extra 15 CCIP dollars.
Provider Nasinet Paulos has been running Cool School Day Care for the past four years. Her journey started at 4Cs, before she got her license. "They taught me how to get licensed, and also helped me to write up the contract. The courses have been so helpful for establishing my business. Each year they keep changing. We also make suggestions about what we're interested in learning, and they do their best to include it all in the workshops."
Paulos, who came into the CCIP store with just eight CCIP dollars, left with balls, an outdoor tunnel, a puzzle, mirrors, and a pair of multi-racial baby dolls.
"I'm so happy. I love this program. And I love teaching the kids. That's my goal," said Paulos, who cares for five children. "Not just having them eat and sleep, but also educating them."
Outreach is usually done at licensing orientations to inform providers of the program and its many incentives. If they do wish to join, all they have to do is sign up for a California Workforce registry number, so that all of their professional development hours can be inputed.
"It's free to join," said Naranjo. "They just have to come to the workshops, and they get all these incentives."
At every workshop, providers also get entered into raffles, so that they can win things like toys, books, first aid kits, and fire extinguishers.
Also, during pre-licensing home visits, Naranjo also mentioned that they often give away items that will support their providers. Again, they might give them a first aid kit or fire extinguisher, or maybe even a small couch or sandbox.
Each year, items are ordered from places like Discount School Supplies, Lakeshore, and Kaplan.
At the CCIP store, there were even two emergency evacuation cribs (which cost 10 CCIP dollars each), something that providers had been requesting, due to all the fires and earthquakes that have been happening around the world.
"It's a functional crib, and it also has wheels in case of an emergency. Its big and sturdy enough that they can put all the children in there and wheel them out if you need to," said Naranjo. "So if you have infants and toddlers, a lot of children that you can't carry all at once, you can just load them up in the crib."
Vanita Patel, who has been running Step by Step Learning Garden for the past 10 years, is so thankful for the program. "I got all my training here. I do it as much as possible because it gives me more confidence to work with the children," said Patel. "I look forward to all the training. I've been doing it for 7 years, and I still never think that it's enough. I'm so thankful for 4Cs, and for this program."