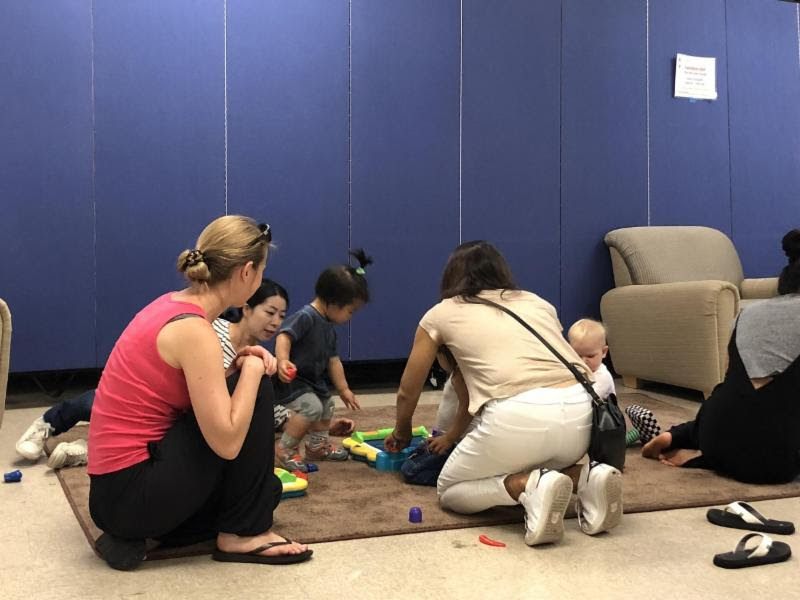 Our new Kaleidoscope program has been going strong for the past month. It's a free program for children to come play and socialize in a fun, engaging environment. All parents, grandparents, and/or caregivers are welcome to take their children to the program, which happens every Tuesday morning, from 9:30am to 11:00am.
Each month brings with it a different theme. July's theme was Animals, and so 4Cs' staff set up different stations with animal-related toys and activities. 
Two of our Resource and Referral Child Care Specialists -- Thuy Nguyen and Rosie Gutierrez -- are on hand at each event, interacting with parents and kids, and providing a safe space for everyone to play.
"My supervisor, Jeanette, she helps us with ideas and we break it down, and try to think like toddlers and infants. They like to do a lot of sensory kinds of things, and they're into exploring, so we gear it toward that. We also ask parents if they have ideas, and what they want to see more of," said Rosie.
"We've enjoyed this very much. There are a lot of toys, and my son enjoys playing here. We don't have this stuff at home," said Sayaka, whose son is about to turn 17 months. 
Kobra's daughter discovered that the Kaleidoscope program was starting, and she asked Kobra to bring her 13-month-old grandson, whom she babysits during the day. "He loves it. I appreciate everything 4Cs is doing here," said Kobra.
For additional information, or to RSVP, please contact 4C Council at: 408-487-0747.