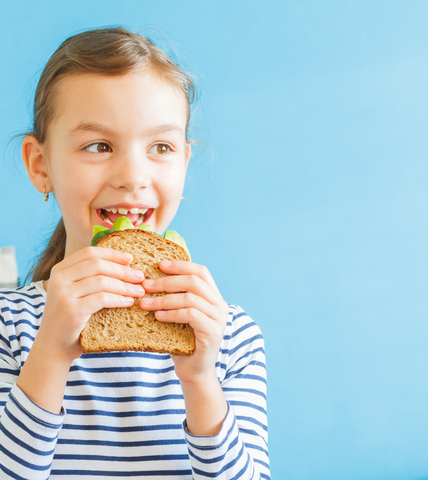 The United States Department of Agriculture (USDA), which provides reimbursements to child care providers who are part of 4Cs' Child Care Nutrition Program (CCNP), has recently updated their Child and Adult Care Food Program (CACFP).
All 4Cs' child care providers who are a part of the program have been given the new standards, and have been adapting to the change. 
"All the changes started back in October. One of them is, they have to serve a whole grain in one of their meals each day," said 4Cs' CCFP Site Manager Jose Portillo. 
At first, things were a little rocky, as providers tried to adjust to the change, having to let go of certain staples, like white rice and white bread. They began serving their children things like brown rice and whole grain breads. When they started, some of the children, who weren't used to the whole grains, refused to eat the food. A lot of it went in the trash. 
But as the weeks went by, child care providers started to find innovative ways to serve whole grains. Some providers started mixing the brown rice and other whole grains in soups. One of the providers has been mixing brown rice and quinoa to try and get kids to embrace the change. 
"The providers are coming up with creative ideas to get kids used to it. A lot of kids aren't noticing the difference anymore," said Portillo. "We've encourage them to introduce the whole grains during snack time, so it's not such a big portion; or breakfast, so it could be cereal or toast, and then they'd gradually move into a bigger meal with whole grains." 
Other changes include the elimination of cookies from snacks/meals. However, graham crackers and animal crackers are still allowed. No donuts, cereal bars, or nutri-grain bars are allowed. 
Eggs are also now allowable for infants under 1; before it was just the egg yolk that was allowed. Also, yogurt is allowable for babies under a year. 
Tofu has also been added as an option for protein, whereas it wasn't on the list in years prior. 
The allowable sugar content for cereals is 6 grams per ounce. A list of cereals has been approved for reimbursement, which includes brands like Cheerios,Kix, Life, Bran Flakes, and Wheaties. 
For yogurt, allowable sugar is 23 grams per 6 ounces. 
One other big change: Providers are now also able to claim meals if a mother breastfeeds on site, as long as she is provided with a place to breastfeed. 
A new Facebook page has been created called: 4Cs Healthy Kids … Follow it for inspiration on keeping our kids healthy and happy!