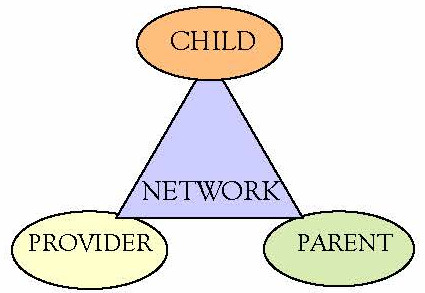 Family Child Care Network
The California Family Child Care Network is a limited provider choice program that serves children from infancy until the day before the child enters Kindergarten. Parents may choose from participating Family Day Care Home providers in designated zip codes. This program focuses on the growth, development, and specific needs of infants and toddlers, and preschool age children. Parents interested in this program should contact the Resource and Referral Department to add their name to the waiting list at (408)487-0749.
How Does the Network Serve the Community?
The California State Department of Education (CDE) provides funding to the Community Child Care Council of Santa Clara County (4C Council). to administer the Family Child Care Home Education Network Program serving children between the ages of zero to entry of Kindergarten from diverse linguistic and ethnic backgrounds.
The participating Family Child |Care Home Education Network providers are State licensed, independent contractors with the 4C Council. Providers participate in the Family Child Care Network Program's Desired Results Quality Service Standards, required by the California Department of Education/Early Education Support Division (CDE/EESD). The Network providers participate in the USDA Child Care Food Program to provide quality nutritious meals.
The Family Child Care Network Program operates in specific zip codes, which have been designated as underserved communities.
The 4C Council's Family Child Care Network Program offers premiere services that fosters the partnership between the agency, providers and parents, to ensure the success of children's early care and education.
4C Network Program Desired Results Goals
* Children are socially, emotionally and cognitively competent
* Children are effective learners
* Children demonstrate physical and motor competence
* Children are safe and healthy
* Children's School Readiness is supported by their family
* Families achieve their goals
Family Child Care Network Premiere Services
*  The premier services support parents with  understanding the importance of school-readiness for their child and continuing as an active participant in their education. 
*  The children will receive early learning and education that offers  a caring and nurturing environment which help them develop social, emotional, physical and cognitive learning.   
*  The 4C Council does not discriminate on the basis of race, national origin, ethnic group identification, religion, age, sex, color, sexual orientation, genetic information, or disability
BENEFITS for Families and Providers
* Child Health and Safety
* Caring and Nurturing Environment
* Flexible hours and weekend care available for parents
* A referral source to Contracted Licensed Network Providers
* FREE workshops and related educational events/training
* Providers receive One-on-One assistance from our Network Coordinators to help enhance their child care services
* Opportunity for both parents and providers to connect and exchange ideas
Requirements for Parent Participation
* Must reside in Santa Clara County.
* Must be income-eligible, based on family size and gross monthly income.
* Must be working, in training, seeking employment or medically incapacitated.
* Must choose a participating Network provider as your child's caregiver.
* Must be listed on the 4C Council Centralized Eligibility List. Call (408) 487-0749 for further information.
APPLY HERE!
Requirements for Provider Participation
* Maintain a license in good standing with Community Care Licensing (CCL) which includes responsibilities when working with an assistant or substitute.
* Deliver Educational Services to children as required by the State: Desired Results Developmental Profile, Family Child Care Environmental Rating Scales and School Readiness Curriculum.
* Agree to obtain and maintain a liability insurance policy of $1 million within 30 days of a child's enrollment (Providers will name the 4C Council as additional insured).
* Adhere to all family child care health and safety requirements as required by Title 22 licensing regulations.
Network children must participate in the USDA Child Care Food Program (CCFP).
* Do not discriminate on the basis of race, national origin, ethnic group identification, religion, age, sex, color, sexual orientation, genetic information, or disability.
* Must reside in the designated zip codes: 95110, 95111, 95112, 95116, 95117, 95122, 95123, 95125, 95126, 95127, 95133, 95008, 95020 and 95037.