---
Eco Healthy : Household Chemicals & Plastics / Eco-saludables: Los productos químicos y plásticos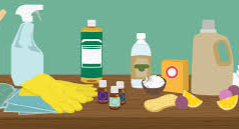 Eco Healthy : Household Chemicals & Plastics / Eco-saludables: Los productos químicos y plásticos
Keeping children healthy is an essential component of any child care program.  Come learn about the difference between cleaning, disinfecting and sanitizing and if your favorite cleaners are really cleaning how you need.  We will also explore plastics in children's toys, cups and bottles.  From rubber duckys to sippy cups, you'll be able to tell what's safe.  The Eco-Healthy curriculum is research based and part of the Children's Environmental Health Network. 
Presented by: Jeanette Bellerive & Corazon Mendoza, Certified Trainers
Mantener los niños sanos es un componente esencial de cualquier programa de cuidado infantil. Vengan a aprender sobre la diferencia entre limpieza, desinfección y sanitación y sus limpiadores favoritos realmente están limpiando como deben. También exploraremos plásticos en juguetes para niños, tazas y botellas ,desde patitos de goma, a sippy cups; usted podrá decidir lo que es seguro. El plan de estudios Eco-saludable es basado en investigaciones y parte del Children's Environmental Health Network.
Presentado por: Karina Naranjo, entrenador con certificado
Cost: $10/per person
To Register, click on the following link to print out the registration form and mail or drop it off to our office with payment.
Workshop Flyer Registration Form
You may register on line by clicking on the "Register Now" button. If you register on line, you will be required to enter your payment information.
****Please do not bring children to the class. NO REFUNDS OR EXCHANGES. This ensures we have optimal learning environment and sufficient materials and preparation for the presenters so the training benefits all those who attend.****